Happy Thanksgiving!!


Please send me an email with the following:
Blinkie Gallery:
Blinkie Number:
Your Name:
Number of Boxes:
Anything Else: [hair color, etc]

The blinkie info can be found by hovering over the blinkie. Be sure to include if it's paid or freeware in the gallery section. Changes, such as hair color, are only available when it is stated in hover text.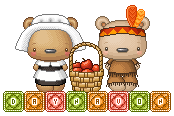 Tube credits: RPP, VP, LP, SR, TC, MYG, CCP, SPF, MUS, CDG, LPP, MD, CDG, K4U, PS, CB, LPT, SS, PLP, LM, PFOP, LPP, PA, SP, CP, PW, FCP, AP, OSSP, DL, PM, DBP, TT, XAN, TL, PMD, SNUG, SS, LPH, MPP, FP, SST, GD, AIOP, SD, SLC, ADP